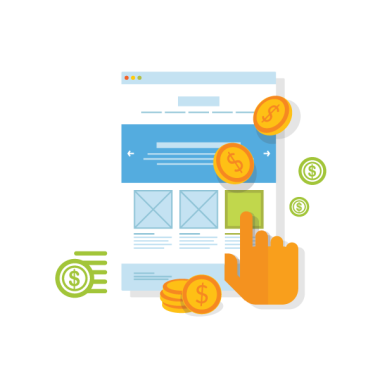 Pay Per Click (PPC) Management
Pay per Click is a huge feat in online marketing and it has very apparent results. We give you an excellent PPC management solution.
Our PPC Services is a strategy that gives a new turn to your business. It is literally a click that helps kick start the beginning of a whole new world of business characterized by efficiency, profit maximization and strengthening of customer base.
Know About PPC
Pay per Click management service gives you an opportunity to place your business entity on the top of search engines. It is a paid service that guarantees your appearance on relevant partner websites. PPC management service helps to place your goods and services in front of the customers who are searching for such services in a tactical manner.
Ajals Business Solutions is a PPC Company in Delhi that brings you the PPC services that draws potential customers to your door step. We make a careful study of your business objectives before heading forwards. This is carefully done by our professionals so that you do not lose business in terms of a single customer also.
As part of our PPC Services in Delhi, we charge a small fee for PPC management service which is very meagre in comparison to the business enhancement that we can give. You can totally rely on our PPC Experts for management of your ongoing business or if you need help for your new business.
The service that we provide is matchless in comparison to the others in the market. This is the reason that we have reputed customers spread all over Delhi as our clients. We constantly keep an eye over your online business and monitor bid prices and budgets for you. This is done with the only intention of bagging good business results for you.
We are able to provide this high quality service only because of our team members who are experts in the field of Pay per Click advertising. We keep you updated about the preference list of your customers which acts as a good feedback.
Paid Search Advertising
Make sure that your money gets enrolled into proper channels. Get the best possible use of your money by opting for PPC management and earn a positive ROI year after year.
We ensure that your money is spent wisely when you show your confidence on us.
PPC Remarketing
PPC marketing strategies help you to recognize potential customers and to re-engage them for long term returns.
We help you to convert 'potential customers' to 'loyal customers' for your benefit in the long run.
Social Advertising
Is the awareness of your brand not enough to attract customers to your business? Social advertising is a key strategy used to generate large scale awareness of your products and services.
We develop social advertising strategies that are both target oriented and are an indicator of your key performances.
Display Advertising
All your requirements of direct awareness campaign and brand awareness campaigns can be met through display advertising.
We give excellent solutions to display advertising as a strong marketing strategy that fulfills all the exposure and engagement needs of your business.
Video Advertising
A moving picture always creates a deeper impression than a still one. This is the reason that video advertising are so much in the vogue.
Increase your brand's reputation with our video advertising strategy. We give you top video ads that have been unrivalled in the city for many years.
We've got enough experience to create award winning campaigns on Google AdWords, Bing, Facebook, LinkedIn, Twitter and YouTube.
17
Video Advertising Projects
141
Display Advertising Campaign
98
Successful PPC Remarketings
315
Social Advertising Projects
Tell us about your project
Let us help you get your business online and grow it with passion
Contact us today and get maximum returns of your investments.
"Ajal Business Solutions is one of the most effective digital marketers that I have worked with. I believe they are also one of the best teams to work with." Ath Ayurdhamah
Head of Marketing
"We have been working with Ajals for a few years now, they have helped us with the SEO and Adwords for many of our websites. We are so happy to have found such a professional group. Great job!." iExpertsForum
Web Project Manager
"We are approached by numerous companies wanting to do our SEO… Ajals' personal and genuine approach, coupled with the technical know-how sets them apart from the competition." Infertility Solutions
Marketing Head